Wedding Registry Checklist
Wedding Registry Checklist - Wedding Registry Tips
As you get closer to your wedding, one thing you and your fiance need to do is set up the wedding registry. For some, it may seem like a fabulous idea to walk through your favorite store and pick out items for your home, but others can start to feel a little overwhelmed by all of products and choices. One essential tip for a successful wedding registry is to know what you need - and what you don't. Print out a wedding registry checklist and go through it with your fiancé© to cross items off the list before you even head out to the store.
If you are moving into your first home together, sit down and create a list of items you will need in each room of the house. Include items that are necessary for each room, but don't forget to add fun, decorative pieces that will look great in your new home. There are plenty of tips when it comes to creating a wedding registry - and while you want to make sure you get the things you need as you and your spouse start your life together, there are a few ways you can help your guests.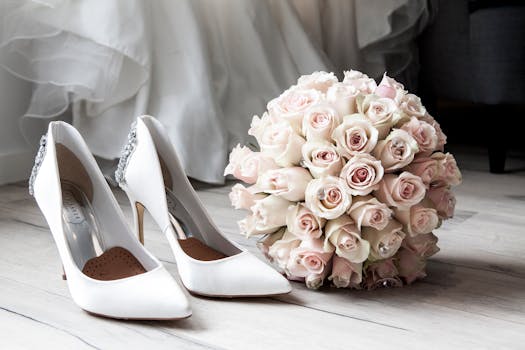 Register as early as possible, and include various items at different price ranges to suit the needs and budget of your guests. Some friends and family will want to purchase a gift early, so don't wait until the weeks leading up to the big day to create a registry - try to register at least six months before. Choose different stores to register, many suggest at least two or three, to give your guests variety and ensure at least one of your options is close or available in different areas around the country. Not everyone likes to shop through the Internet, so make it easy on your guests to help you fulfill the registry.
When you send out invitations, be sure to include information about your registry within the invite or save-the-date card - by way of a registry card given to you by the store, or include a wedding website URL on the invitation so guests can reference it at their convenience. Don't be afraid to go to stores outside of the usual retail stores, such as Target or Crate and Barrel, if it means you add a store that fits you as a couple. For example, if you and your groom love sports, it's perfectly acceptable to create a registry at a sporting goods store.
Wedding Traditions - The Wedding Registry
Things to Consider Before You Start a Registry
Take into consideration a few basic things, and your wedding registry will guide your guests in buying a gift that meets your wishes and needs. Some areas in which you may want to give some thought are:
Wedding Registry Checklist
1.The price range of the gifts
2.The number of wedding related events you will have prior to your wedding (engagement party, bridal
shower, bachelorette party, stag and doe party)
3.How many guests you will be inviting to your wedding
4.The size of the home in which you will live - apartment, condo, small or large home along with the number of bedrooms and bathrooms that your home will have
1. Gift price range
a)Give a wide price range for your guests to choose from - less costly items will give guests an opportunity to make up a Bridal Basket with a variety of needed, but individually less costly, items. More costly items will give an opportunity to friends or co-workers who want to pool their resources and give a group gift. Plan accordingly with a price range from $5.00 - $500.00 Any gifts over that amount will be uniquely selected by the giver(s) of the gift. For example, parents may buy a home for the couple, grandparents may pay for the honeymoon, a favorite relative may buy the couple a hobby or recreation gift (e.g. canoe).
2. Number of wedding related events
a)Parties or gatherings to celebrate your happy occasion may be numerous - engagement, bridal, bachelorette and perhaps a stag and doe party. the cost of gifting adds up, so give your guests plenty of choices in both gift ideas and price range.
3.Number of wedding guests
a)One hundred fifty (150) guests invited does not mean you need to register that number of gifts. The same people who are invited to pre-wedding celebrations may be wedding guests also. Keep in mind that couples attending your wedding celebration will bring one (1) gift.
4.Home size
a)Because of space restrictions, and layout, apartment dwellers need fewer items than condominium dwellers than do large home owners. Think in terms of multiples: two or more bathrooms means more towel sets and bathroom accessories. The same goes for the number of bedrooms with regards to the number of bed sheet ensembles you will need.
Give your guests a variety of items and price ranges to choose from for selecting a wedding gift for you. Including the following items in this wedding registry checklist can start you off on the right foot as a newly married couple:
O Everyday dinnerware, glassware, cutlery
O Formal dinnerware, glassware, cutlery
O Formal tableware (candle holders)
O Fine crystal (decanters)
O Serving dishes, platters & trays
O Baking & cooking dishes
O Pots and pans
O Home décor (vases, frames, lamps)
O Small appliances (toaster, blender, coffee pot, food processor, iron, slow cooker)
O Specialty appliances (espresso, bread maker, ice cream maker)
O Larger home appliances (vacuum, dish washer)
O Electronics (TV, DVD, audio, video, music, video games)
O Table linen
O Bed linen ensembles (sheets, duvets, comforters)
O Everyday bath & hand towels
O Guest bath bath & hand towels
Show your family and friends how much you care - take the worry away by guiding them in buying a gift that meets your wishes and needs.
Make an Online Wedding Registry
Wedding registries not just help out your guests but help you get accurately what you wish for and save time at the return lines after the wedding. Online wedding registries are very convenient as well as bride friendly.
In many cases, to set up an online wedding registry you must go through a huge retailer. A number of the largest retailers with online registries consist of Wal-Mart, Target, Bed Bath and Beyond, Macy's, and REI. Smaller boutique stores can as well have online registries, but not all of them do. You can call a local boutique to see about their wedding registry options.
If you don't want to home your registry at only a small number of stores, create your online wedding registry through MyRegistry.com. This site permits you to include items from some store in the world to your registry and send it to your family and friends. It is a smart way to keep prices low because you can discover the best offers from as many diverse stores as you want.
To begin making an online wedding registry, you'll need to sign up by making a username and password. Be sure to record this somewhere near your PC so you will be able to access your registry. After that you can look for the site to add items to your registry and find updates about what items have been purchased for you.
The great thing about online wedding registry is that you can inform and edit your registry at any time of the day with no having to worry about store hours or crowds. A lot of stores also carry items online that are not in stores, thus browsing online makes sure you don't miss a thing.
Wedding Registry: 101
The wedding gift registry can be one of the most exciting things about getting married. It may seem overwhelming to pick out every single thing that will be part of your new home, but here are a few wedding registry tips to make the process easier.
When can I start to register for my wedding?
You'll want to have an idea of what you need and want before you go "shopping," so it's a good idea to start thinking about your registry shortly after your engagement. Put it on your wedding checklist as a priority task, and make sure to have your registry completed before your first bridal shower so people know where to shop for gifts.
How many places should I register?
Couples will register at anywhere from one to four stores. Be sure to allow for a variety of gift options, but don't overwhelm your guests by registering at too many retailers. Try to register at stores that offer online shopping to make things more convenient for guests. But remember not all of your guests may use the computer so don't make your wedding registry purely online.
Regardless of where you register, be sure to select items at a variety of price points so all of your guests will find a gift they're comfortable purchasing.
What do I need to register for?
It's important to take an inventory of what you already have, what needs to be updated, what you really want, and what you'll need later. For example, even if you're not hosting a lot of dinner parties now, consider that at some point you might, and you'll want to be prepared with good china, serving ware, etc.
You can even choose to register for donations to your honeymoon fund or house payment. If this is something you're interested in doing, you should still consider creating at least one traditional registry at a store, as not everyone is comfortable giving money as a gift. Plus it's always nice to have something tangible to open!
Regardless of when and where you register for your wedding, the gifts you receive will be a mix of things you want/need and things that you'll have as keepsakes for the rest of your life. So don't forget the most important thing about your wedding registry - the thank-you cards for your guests' kind gestures. (These should be sent within a week or two of receipt or the wedding.)