Places To Register For Wedding
Tips For Places To Register For Wedding Gifts
A bride and groom will receive many gifts for their wedding from engagement parties, showers, and from the actual wedding. Most couples nowadays choose to register for their wedding gifts. Before you start your wedding registry be sure to consider some of these tips to get the most out of it.
Register For a Wide Variety of Price Points
Not everyone can afford to buy you the $400 mixer you want for your wedding. You need to take this into consideration when you register for your wedding. Try to get things on your registry that have a full range of price points. This way, people are more likely to get you gifts off your registry since you give a greater variety of items that they can afford. If you only have pricey objects on your registry, more people will likely stray from your registry and will buy you whatever they please.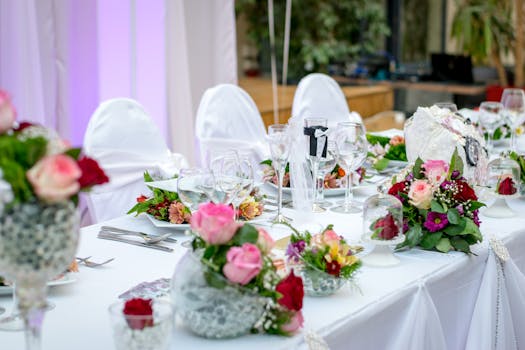 Register Early
Registering for your wedding should be one of the first things on your wedding to-do list. This is especially true if you are having an engagement party or one of your bridal showers is several months before the wedding. Many bridal shower gifts are bought from the wedding registry so you want to register in plenty of time before any wedding event so people can actually have access to your wedding registry.
Only Register For Items That You Want
Don't register for a set of china if you know that you will never use it. Rather, only register for gifts that you know that you will use. Consider what type of lives you and your fiancé live. If you are buying a home that needs to be fixed up, you can even consider registering at a home improvement store. If you only register for gifts that you know you want and will use, you are more likely to actually put your gifts to good use after you are married instead of them being wasted.
Make Your Wedding Registry Convenient To Others
If you have a wedding website, you may want to put a link to your wedding registries on the site so that your guests have the site right in front of them. Be sure that when you register, to include at least one place were people can buy the gifts online. This gives people the option to buy whenever they want and they don't even have to leave the house. It's also easier to ship a gift to you for your wedding if it is bought online and shipped straight to your home.
Places To Register For Wedding
Register Together
If you register for your wedding alone, you may be tempted to get only gifts for the bride and none for the groom. If you register together with your fiancé, you can achieve a balance in the gifts for things that he wants and things that you want. It's also fun to have your future spouse help plan your living new home together. Also, this alleviates your fiancé getting mad when your new home is decorated in all the items that you want. If he goes with you to register, then you can always remind him that he had a say in the matter.
Bridal Registry Basics - A Bride's Guide to Registering for Wedding Gifts
Take time from your wedding planning and create your ideal bridal registry. While creating a wedding registry may seem self-serving, it is actually a convenience to your guests. Through wedding gifts, friends and loved ones celebrate your wedding (and help you stock your home!) - having a registry eliminates the guess work.
Even if you would rather receive cash gifts, consider at least registering for a few traditional wedding gifts. Remember, some guests feel more comfortable giving a tangible gift. And don't worry if you are not the traditional china and crystal type - you can still create a bridal registry. Home Depot has become a popular option for couples, as well as registering for a honeymoon or other big ticket item.
Use this bridal registry guide for everything you'll need to know when making your wedding gifts wish list.
When to Register -
Aim to register at least 6 months before the big day. Remember, there may be engagement parties, showers and other pre-wedding festivities where gift-giving is appropriate. Help out your guests by providing them with some options.
How To Choose Your Stores -
Think about what stores you like and patronize frequently. If you will be creating a more traditional bridal registry, a good bet is choosing an all-inclusive department store for items like china, glassware and flatware and also choosing a home goods specialty store (Pier 1, Pottery Barn, Crate & Barrel etc.) There is no hard fast rule about the number of stores you can choose for your gift registry, but 2-4 is a good number. Before making your final selections, consider the store's wedding registry policies:
o Selection -
Does the store carry an array of items and price ranges? More importantly, do you actually like their selection?
o Service -
Does the store have a registry department or handle a lot of wedding registries? If so, you can expect the store to be knowledgeable and able to offer guidance and assistance along the way.
o Convenience -
What is the purchase process like for your guests? Does the store have locations that are convenient for the majority of gift-givers? Will your bridal registry be available online? Can your list be faxed? How long will the gift registry be kept active after the wedding? (technically, it should be at least one year)
o Updates -
How long does it take for a purchased item to be reflected on your bridal registry? How easy is it for you to make modifications to your list?
o Bonuses -
Many stores offer a completion program, allowing the bride and groom to purchase anything left on their gift registry at a discount.
What to Register For -
Again, there is no rule that says you have to fill your bridal registry with china and flatware. However, please remember that these wedding gifts will be with you for the rest of your life. Even if you are not the entertaining types and "dinnertime" takes place on the couch with paper plates, fast forward to holiday meals and social events of the future. It's a good idea to have at least a set of 12 matching place settings - whether formal or casual - so that you won't find yourself limited when it's your turn to host Thanksgiving.
Typical wedding registries are divided into: china (formal and everyday), stemware (formal and everyday), barware (formal and everyday), flatware (formal and everyday), linens, kitchen appliances and gift items. Consult a complete bridal registry checklist to see a breakdown for each category.
Who Spreads the Word -
It is never appropriate for the bride and groom to include gift registry information with invitations. Registry information can, however, be included in other pre-wedding party invitations-since the bride and groom typically do not host those events. Tell your closest friends and family and anyone who asks where you are registered, and they will spread the word. If you have a wedding website, you can also post your bridal registry information there.
Where to Register for A Wedding
Where to Register for Wedding Gifts
If you are wondering where to register for wedding gifts then read on? There are a lot of choices out there today. Should you use a traditional registry from a department store? If so, then which store are most commonly used? What are the advantages that each offers? Should you consider online wedding registries such as Amazon.com? What about a universal registry site to register for all of your wedding gifts in 1 place? This article will outline several of your options for where to register for wedding gifts and will give some of the pros and cons for each.
Online verses Store -- Where to Register for Your Wedding?
The number one question you must find the answer to when choosing where to register for wedding gifts is whether you will do it online or in a physical store (more traditional). There are some pros and cons with each option. First, consider what kind of guests you will invite. If it will be mostly younger guests and people who are fairly familiar with the internet, then registering for wedding gifts online may be better than in a department store. One advantage of an online registry is convenience. Your guests will be thankful for being able to quickly shop online, choose a gift, and then buy it quickly.
it is also very convenient to have the gifts ship directly to your home or apartment rather than having them brought in person to the wedding. There are a lot of things that you are coordinating on your wedding day, and having to figure out how to get a large amount of physical gifts home from the wedding can be one thing you don't need to worry about if you have chosen an online registry.
Another thing to think about is location. When selecting where to register for wedding gifts, if you choose a physical store, then you must make certain that all of your guests will have close enough access to that store. If your guest list includes people from a wide variety of locations then you may want to choose an online registry.
Online Sites - Where to Register for Wedding
If you decide where to register for wedding gifts and have opted to do so online, then your next question is the type of bridal registry to use online. There are many options. Most department stores offer their own wedding registries online. These include Target, Bed Bath and Beyond, Macy's, Dillard's, JC Penny and many others. This could work well if you are going to register at just a few stores. However, if you would like to register for gifts are more than two or three stores, then you should consider a universal registry. There are a number of these available online. You can find these by searching for something like "online wedding registry" on Google. These sites allow you to combine gifts from any number of store into one centralized registry. Really, the only limit is your imagination.
How to Make Registering For Wedding Gifts Easy
If the first time you stepped into a store with one of those pricing guns used to create a wedding gift registry you felt overwhelmed and unsure of what to do, you are not alone. Creating a registry is a daunting task and in modern times, it is not always the most useful thing to do. Take heart though because there are ways for brides to offer their wedding guests the convenience of a gift registry without being inundated with nineteen porcelain place settings and a dozen crystal vases. There are a number of useful things you can register for and in many cases the registering itself can be a lot of fun. So if you are engaged and planning a wedding, grab your fiancé and head out for a day of scanning price labels, making choices, and looking forward to your new life together.
Start with practical items first. A lot of couples live together and even own their own homes by the time they make it down the aisle, so there is a chance little will be needed for a traditional registry. However, if you are buying a home and just beginning life on your own, weddings gifts are a great way to start your life with the items you need. There will be plenty of occasions for gift giving like the engagement party, the bridal shower, and the actual wedding, so be sure to register early.
Next, consider how practical your registry is for friends and family. Are you having a wedding attended by people who are mostly on a budget? Young couples should now expect their young friends to be able to afford expensive gifts. Be sure to include some inexpensive items on the registry so everyone has something they can purchase available to them. You may want to register at a few different stores that offer items in a variety of prices. Department stores often sell only luxury items, so start a registry at a discount store in addition to building your collection of finer items.
An option for those who have been living on their own is to create a honeymoon registry. If you do not need china and stemware or you know you will never use it, there is no sense in registering for it. If you know you and your new spouse would enjoy a luxurious trip away following the wedding, create a honeymoon registry. Guests will contact your travel agent and their wedding gift to you will be contributing to the cost of the honeymoon. In some cases, guests can even purchase you specific items on the honeymoon like a romantic meal, a spa treatment, or an adventure excursion.
If you are a bride planning a destination wedding, you may want to forgo the registry completely. Wedding etiquette recommends that destination brides not have wedding showers, so this cuts into the potential for wedding gifts. Because destination weddings are much smaller, and because it can be difficult for guests to travel with gifts, many couples request that there be no gifts at destination weddings.