My Wedding Registry
Not Your Mother's Registry - 5 Top Modern Wedding Registry Trends
Today's weddings are less of an exercise in tradition and archaic rituals, and more of a true expression of the personalities, values, hopes and dreams of the bride and groom. This trend is reflected in every aspect of the wedding planning, from the bride's choice of wedding dress and bridal themes, to the wedding décor and wedding registry.
Gone are the days of a gift registry filled with old-fashioned items such as china, crystal and ornate linens that most likely will only be used on special occasions. A modern bridal registry is more likely to include wedding gifts that will fit the couple's current lifestyles and enhance their new journey together.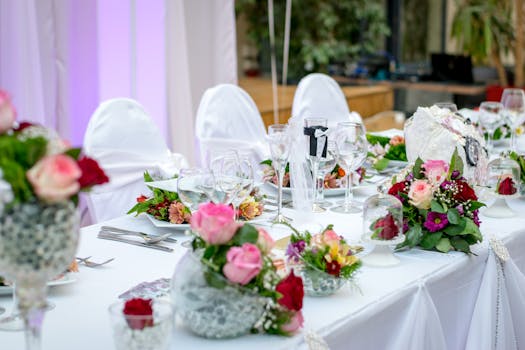 Whether you're a "Platinum Weddings" bride, frugal bride, bridezilla or laid back bride, there are lots of ways to reflect your personality and dreams in your wedding gift registry. Here are a few popular trends in wedding registry gifts, perfect for today's bride and groom:
Ticket to Paradise
A honeymoon registry is one of the most popular wedding wishes for modern couples. Registry gifts can range from an investment in the couple's dream to backpack around Europe to a week of beachside activities at one of the world's most luxurious resorts.
Home Sweet Home
Why register for a bunch of 'stuff' to put into your dream home when you can actually register for your dream home? A down payment on a new home is not only one of the most popular wedding wishes found on today's wedding registries, it's one of the most valuable investments family and friends can make in a couple's new life together.
A Fresh Financial Start
Student loans and other debt can be a huge burden for a couple preparing to start their new married lives together. A cash registry or an investment in a "fresh start" for a new couple can help them pave their way to a brighter and more prosperous future together. This is a more contemporary spin on the traditional wedding wishing well, and a very popular gift registry trend.
Pay it Forward
Many modern couples start their new lives together by paying it forward. Instead of asking for wedding gifts for themselves, they ask guests to donate money they would have spent on a gift registry items to a nonprofit organization or worthy cause. Typically, donations can be made by mail or by accessing a link on the couple's wedding website. This year, many couples are likely to ask for donations to the Red Cross and other organizations that are helping to fund the relief efforts in Haiti.
Gift of Lifelong Learning
A great way to keep your newlywed relationship fresh and exciting is by trying new things together, which is why the gift of lifelong learning is a perfect addition to modern couple's gift registries. Anything from music classes, cooking classes (an especially ideal gift for a bridal shower registry) or even flying lessons can bring excitement to a new marriage and help a couple continue to grow and strengthen their bond.
10 Tips to Creating Your My Wedding Registry
Wedding registries provide an answer for young couples that don't have a lot of money and need just about everything to establish their sparkling new households. The wedding registry is the perfect way to avoid receiving forty vases, thirty sets of wine glasses and twenty tablecloths and towel sets. So before you say, I do, follow these ten steps to happiness. Hopefully, they will lead to a new kind of life enhanced by non dust-collecting items in triplicate and quadruplicate.
1. Set up a wedding registry with two or three merchants. This will offer more options to your guests.
2. Pick physical as well as online retailers. To register, for example, with just one Web-only retailer can confuse some guests who may never have shopped online.
3. Check for hidden fees. Read the "fine print" for hefty service charges. They are often there, hiding like little torpedoes, ready to explode when one of your guests buys you a present.
4. Consider general retailers among your chosen wedding registry merchants.
5. Register for items to fit every budget, including the big bucks but considering the smaller ones as well. According to Sharon Naylor, author of "The Ultimate Wedding Registry Workbook," a popular trend among wedding gusts is to pool resources and buy expensive gifts as a group.
6. Ask the selected wedding registry about a completion package. Some retailers offer a 10% or even 20% discount on unpurchased registry items. You might also want to add things as you go so that you can get more items at a discount and keep the gifts within the confines of everyone's budget.
7. Do your homework. Become a connoisseur of household essentials and select carefully, or you might have to replace chosen wedding registry items long before you planned. Knowledge about thread counts, knife tang and silver chromium-to-nickel ratios can save you time and money in the long run.
8. Give the wedding registry your address to keep on file but suggest that it not be made available to guests. They can always ask you directly if they need to send something to your home.) Unexpected problems concerning strangers finding you can thus be avoided.
9. Ask a friend or relative to watch for packages arriving at your home while you are away on your honeymoon. The neighborhood need not know you are not at home.
10. Consider keeping some duplicate gifts. Glasses, for example, often need replacing, and that ninth vase just may come in handy for a wedding or shower gift down the road. (Just be sure you write down the name of the donor and attach it to the item. Otherwise, you might end up giving it back to the same person who gave it to you!).
Wedding registries exist solely to make life easier for the bride and groom. Think outside the box and your guests will act accordingly. Better watch out for cat guests though, or you might end up with a box of kitty litter as a thoughtful aside.
Alternatives to My Wedding Registry
As more and more couples find that they are getting married with a full supply of household items, they are looking for alternatives to traditional wedding registries. While one option is to create registries for non-traditional items. there are alternatives to wedding registries altogether. In this article, I will discuss some of those alternatives to wedding registries and discuss how to set them up and spread the word.
Charity Registries: One option is to set up your own charitable registry. Rather than get a registry at a store, select a series of charities that your guests can send donations to in your name and spread the word about this (remember not to put registry information on your invitation). There are a couple things to watch out for when doing this, however. First, make sure you have multiple charities listed. Guests should always have options in which gifts they give you. Second, make sure you have at least one completely uncontroversial charity for your guests. Even medical research (because of possible stem cell research) or religious charities (because of worries of proselytizing) can be controversial to some people.
Bank Registries: Another option, if you prefer financial gifts, is to set up a registry at your local bank. Rather than spreading the word that you want money, you can include on your list various stocks or bonds that they can purchase for you. This gives your guests options in terms of what to give to you, while still allowing you to ultimately receive financial gifts.
Honeymoon Registries: An increasingly common registry is a honeymoon registry. Your guests can actually purchase for you something as specific as, "a carriage ride through Central Park" or "Breakfast on Tuesday". This way, they can contribute to your honeymoon individually without simply giving you "honeymoon cash." These can often be set up with your travel agent.
Nothing: Don't forget, you don't have to have a registry at all. Registries were originally set up by departments stores for the sake of selling products, not by couples for their convenience. If you don't need to set up an entirely new household, you can dispense with a registry altogether and just let people give you the gifts they'd like. If you do this, you'll receive a lot more decorative and personalized gifts, but this can often create more thoughtful presents. You'll get a lot of engraved gifts if you do it this way, but a lot of people really like those.
Bridal / My Wedding Registry
It is becomingly increasingly common for couples to come up with bridal / wedding registry. The stigma of letting known of your gifts needs to guests has eroded over the years. Though the bridal / wedding registry is not publicized publicly to the guests in the invitation, it is usually spread by word of mouth at bridal showers or through friends and family.
Having a bridal / wedding registry benefits both the couple and the guests. For the couple, they could avoid the problem of receiving unwanted or duplicate gifts. However one thing to caution on devising the items on the bridal registry is that you will need to know what you really need and whether the items are realistic or not. It defeats the purpose if your registry contains all the expensive items which you know that the guests would not be able to afford them. So do think it through on what you want to add to the registry. Discuss with each other on what are the things you think that both of you might need.
Some guidelines on how to draft up a bridal my wedding registry:
Know your lifestyle.
Choose something which you would need and suits your way of life.
Balance the value of the gifts in the list.
You would know that you might receive a few of the expensive items which you have listed in your registry. So to avoid getting the wrong balance of the gifts you want, try to balance the value of the gifts so that you roughly would be able to obtain the majority of them without many duplicates.
Have a mixture on the categories of items.
Try to come up with a mix of items for the guests to choose from such as cutlery or pots and pans. Do not try to skew too much to one type of gifts unless you really need them. If you want more household items, then you could list more items in the same category. If not, try to come up with a few varieties to give the guests more choices.
Go to the store to see the goods!
With the evolution of the Internet, it is increasingly simple and convenient to shop online. Thus you might just brose through the catalogue to pick your items. However it might be more advisable for you to hit right down to the store to see the real stuff so that you really know the things you are getting!