Bridal Shower Registry
Putting together a bridal shower registry can be fun, if you know what you are doing.
First of all, keep in mind that a bridal shower registry is not the same as a wedding registry. Gifts for a bridal shower tend to be smaller. Do not list major gift items like appliances or furniture. Instead, think about erotic items such as sexy lingerie or aphrodisiacs. More wholesome bridal shower gifts include albums, picture frames, aromatherapy candles, and the like. Romantic CDs and DVDs also make great gifts. You should also list feminine products such as lotions, shampoos, special soaps and other similar items.
How do you put together a bridal shower registry
You can take advantage of the in-store registries at the large department stores, which also enables guests who do not live near you to choose and buy gifts that are in the registry.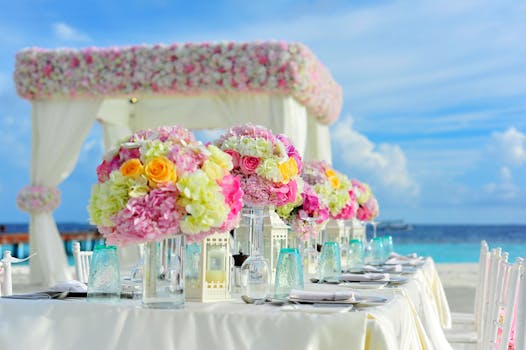 Some women create an online bridal shower registry where your guests can shop from home. Creating an online shower registry at a specialty store will give you the option to choose from a wider variety of products that the shop specializes in. A department store may only have limited varieties for a product while a specialty shop may carry hundreds of varieties.
Some reminders
If your Maid of Honor and other close friends are putting together your bridal shower registry for you, make sure you clue them in on what theme you would like. Avoid getting too surprised by talking to them openly about how you envision your bridal shower to be and what gifts you expect.
Bridal Shower Registry
Also make sure that the items you include in the registry have a wide range of prices, so that guests with different budgets can have a wider selection to choose from.
Bridal Shower Registry Items Not to Forget
Adding items to your bridal shower registry can be a very fun experience. It can also be a bit overwhelming though. How do you know what things you will need? Here are a few things to think about that may be easy to overlook.
Window Coverings: Depending on what type of living situation you will have after you get married, this could be an essential item. Many apartments do have shades or blinds already installed, but some do not. Also if you are purchasing a home, you may need to buy your own window coverings. Either way, you will probably still want to buy some curtains to cover a basic window shade or set of blinds. You would be surprised at how much these items can cost. You won't want to overlook these items on your bridal shower registry.
Shower Curtain: This isn't the most glamorous item on your registry, but it is a definite necessity. In fact, you may want to purchase a cheap curtain just in case you don't get this item from your registry list. You'll be singing the blues if you realize after the first day in your new living situation that you don't have a shower curtain.
Outdoor Items: It can be easy to get focused on indoor items for your wedding gift list. Usually the kitchen, bath, and bedroom are the primary areas that people think about when creating their bridal gift registry. Try thinking outside the box. Would it be fun to have a BBQ? How about patio furniture? What about practical things like a hose and a planter? Lawn mower? These items can be pretty pricey, so it is a great idea to add some of them to your list.
A helpful thing to do at the beginning of this process is write down a list of all the rooms in your new house/apartment (including the garage, patio, etc...). Then go through each room and think of things you might need. You'll be amazed at some of the basic necessities that you would have otherwise missed.
Bridal Shower Registry Choices - 3 Types
When you get ready to register for wedding gifts you will want to consider a few things. There are a number of different kinds of registry options out there. These range from very traditional wedding registries to all-in-one bridal shower registry ideas to unique/alternative options.
Here are 3 types of gift registries to consider with a brief description of each and some examples:
1) Traditional -- This is what probably comes to mind when you think of a gift registry. To create a traditional registration a bride and groom first choose one two or three popular retail stores. They then visit these stores in person, and start a registry. The advantage to doing a registry in this manner is that there is usually some help provided by the store as the couple decides what gifts to register for. One of the downsides however is the time it takes to drive to a physical store to add gifts. The sales people can also be a bit pushy and try and get you to register for items that may not be the best fit for your wishes.
2) All-In-One -- These are registries that allow a couple to choose gifts from any number of stores for their registry. Sometimes a couple may choose to add a majority of their items from just a couple of stores, yet have a handful of unique items that can only be purchased at specialty shops. This type of registry allow for this type of selection. These registries are online, which provides an element of convenience for both the engaged couple and their guests who will be purchasing the items. However, one thing to keep in mind with an online bridal shower registry is that all of the guests may not be online shoppers. If this is the case there may be a portion of the guests who are unable to purchase items from the registry.
3) Unique/Alternative -- There are a wide variety of interesting registration alternatives out there. Most of these are accessed online. These range from registries for cash, homes, honeymoon trips, and even charities. This type is a great choice for those who already have a lot of the household items that are normally associated with a wedding registry.
The internet has provided a plethora or new bridal shower registry options. Be sure to consider your guests as well as your personal desires as you choose your perfect wedding registry.