Bridal Registry
Bridal Registry Tips
A bridal registry is a service offered by department stores to newlywed couples. This is a system that allows a couple to manage and keep track of the purchase of gifts for their wedding.
A Chicago-founded department store pioneered the institution and offered bridal registries as a service for newlywed couples. Since then, the concept has turned into a popular service of many department stores. This service is also offered by large house-improvement warehouses.
The bridal registry begins with a list of items from the store that the couple wishes to receive. This list is then provided to their wedding guests.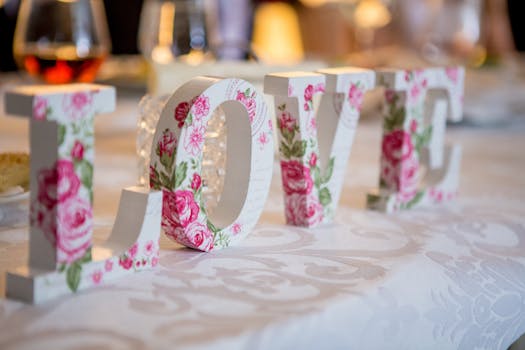 There are different methods and ways of implementing this service that allow participating stores to provide the couple's wish list to their guests and to assure effective management of the wedding gifts. Some registries track more details than others.
Each participating department store updates its list as a gift is purchased and the item is then removed from the couple's wish list. This prevents the problem of a single gift being repeatedly bought by several guests.
Bridal registries can be greatly efficient for the couple to be married. It is also convenient for guests who usually have a difficult time making a decision about what to buy for the newlyweds.
Bridal registries, though popular, are not always well-received. Some people perceive them as a modern practice that is done in bad taste. This is especially true when it comes to older traditional guests. Soliciting gifts negates the traditional notions on gift-giving that many people still value so dearly. The use of bridal registries also does away with the traditional gift giving concepts such as "being thankful for whatever you receive" and the surprise element that many still enjoy. Moreover, many people view bridal registries as a type of competition because prices of the presents are known. This also has led to the more controversial practice of couples asking guests to give money instead of presents.
Bridal Registry
Bridal Registry Tips That Will Work For You
Bridal registry is like shopping made more fun - you get to choose the items and have the guests purchase them as gifts for you. Although you may not be able to complete your line-up, what's good is that you have exactly the items that you want and need, and your guests will not have a difficult time finding a gift for you. Also, they will instantly know that you will appreciate their gift because it is on your wish list.
As with all aspects in a wedding, not all bridal registries are the same. If you like, you can also segment your bridal registry into gifts that are practical that will be useful in your new life as a couple and gifts that would just be fun to have. Here are some tips to make the most out of your bridal registry.
- Promos, Discounts Freebies - If you are creating your bridal registry at a big retailer, ask them if they have offers discounts on some of the items if someone buys them from the registry. Some stores offer these kinds of programs and it is a lot better than just the traditional bridal registry.
- Choose at least two to three stores - Do not just settle on one store that you are familiar with. Create other bridal registries for other stores that will be located in different areas and for different items. Make sure that if you have multiple bridal or wedding registries that you do not duplicate items from one registry to another. That way your guests will not get you duplicates of the same item. Choose stores that specialize in the items that you are interested in. A store known for kitchen appliance is where you can best enlist your kitchen bridal registry items. Specialty stores will give you and your guests a lot of options.
- Have a sales person or DIY - Some stores will give you a handheld scanner so that you can choose items by yourself, but it is still a good idea to talk to a sales person to get suggestions and other details. Find out about online purchases or gift wrapping services so you know what your guests will have to go through when they purchase bridal registry items from their store - whether it will be tedious or really easy.
- Check the price range - be a little modest on the price range that you will have. Choose items that are within reach of the guests who will be attending. It would be a little unreasonable to expect them to buy hundred or thousand worth of items especially if it is beyond their budget. As much as you would want to receive these items, you also need to consider your guests. With proper consideration of your guests' budget, it will be a win-win situation for everybody. Consider also getting various items in different price ranges so that you guests can choose a price they are comfortable with.
Fundamental Bridal Registry Ideas
The big day is approaching and you undeniably have a million things to do. Has the menu been set with the caterer? Have all of your guests RSVP'd? Did you inform the florist that you want peonies instead of orchids?
Wedding planning is one of the most enjoyable, yet one of the hardest, things that you will ever have to go through. However, starting a bridal registry shouldn't have to be so hard. Once you get organized and know what to look for, your bridal registry should take less time to complete and be a more enjoyable experience.
When you go into a store or start browsing online, many businesses will tell you that you need everything from baking dishes to the Magic Bullet in your home. The truth is a lot of these products are less expensive items that you can purchase yourself. Items that you should put on your bridal registry, before all of the small accessories, are the more expensive products that you will need around the house. These more expensive products are the gifts that people will give you to help start fresh so that you can focus on more important things like paying rent. Some of the items that you should consider adding to you bridal registry are:
• China- If you enjoy entertaining, it's nice to serve your guests with beautiful china. You can add a less expensive set of plates, meant for everyday use, to your bridal registry as well.
• Silverware- Get enough silverware and large serving utensils for occasions in which you have guests over. If you register for 16 sets of china, you should also register for the same number of utensils.
• Appliances- Be careful not to clutter your home with appliances that you will never use. However, appliances such as toasters and food processors that you will use frequently are ideal products to add to your bridal registry.
• Knives- Knives can get pretty expensive, so don't forget to add them to your bridal registry. Many people prefer knives with fine edges because they can be sharpened and last for years.
• Cookware- When it comes to cookware, you have a choice between stainless steel and non-stick. Many manufacturers offer sets of pots and pans, which they also sell separately to allow you to pick and choose.
• Bedding- Your bridal registry should include 3 sets of sheets as well as two duvets. The duvets that you pick should be of varying weights so that you may use one in the winter and another during the summer.
• Towels- It is a good idea to register for bath towels that are for personal use as well as some extra guest towels.
• Table Linens- If your family is one that traditionally prefers to dress up the dining room with a tablecloth; you should definitely register for one. High quality tablecloths can be surprisingly costly.
Once you have registered for the basics and more necessary items for your home, you can begin adding other less expensive items to your bridal registry. While working on your bridal registry, pick out items that you really like and will use. Items such as the fondue set that you're thinking about will have little to no use and will either be returned, re-gifted or eventually resold. However, your china is something that you will treasure always. If you choose to, you can create a theme for your home decor and incorporate among all items that you register for. For example, if you try to create a consistent nautical theme throughout your home decor, you may want to register for china with a navy trim, towels and bedding with navy stripes and so on.
Bridal Registry Ideas for Different Lifestyles
Most couples like to set up a bridal registry to give their an idea on what wedding gifts they would most like to receive. A registry is also a good way of avoiding a lot of duplicate presents. Depending on your interests and what stage of life you are in, there are a variety of things that you might want on your wish list. These are suggestions for bridal registries for different lifestyles and stages in life.
Just Starting Out: The traditional young couple usually needs a lot of household basics. Set up a registry at a department store that carries everything you need to furnish your first home. Think bedding, pots and pans, dishes, flatware, and glasses. Remember to ask for all of the standard small appliances like a toaster, coffee maker, and crock pot. You should also add a few decorative items to your list such as vases, candlesticks, and large serving platters. Couples often opt to register for both fancy china and an everyday set of dishes. Do the same with stemware and glasses as well.
Already Living Together: These days, many couples live together before getting married. You may have some of the basics like dishes, but lack more attractive or high quality items. Good items for your registry are beautiful tablecloths and napkins, high quality cookware and bakeware, chef's quality knives in a block, and a nice set of barware. If establishing the registry before the bridal shower, the bride can also request more personal items, such as bridal jewelry or a set of engraved boxed stationery to use for thank you notes.
Established Professionals: There comes a certain point in life when a couple has accumulated most of the necessities they need for their homes. This is particularly true when two households are being combined. While you may not need another toaster, there are undoubtedly some items you could use to enhance the beauty or function of your home. Perhaps you could use a new set of lamps for your living room or a handwoven throw for the sofa. A high end vacuum cleaner is something that anyone will be glad to have in their house. Couples who enjoying traveling can add things like monogrammed luggage to their registry. Be sure to request the full array of pieces, including a large and small suitcase, a garment bag, a weekend bag, a cosmetic bag, and a jewelry roll (for taking your bridal jewelry on your honeymoon!).
Non-Traditional: While most traditional bridal registries focus on household goods, not everyone finds that stuff appealing. If you feel like you already have the functional items you need and could not care less about upgrading, it is time to set up a non-traditional registry. You can ask for things that will brighten your day, as well as items that are related to your interests. Examples include original artwork, tents for campers, golf clubs for avid golfers, or a new grill for those who love outdoor entertaining. Some couples also choose to add electronic devices to their wish list. It is fine to ask for the latest tv or stereo equipment, but keep in mind that if it is outrageously expensive, it will probably not be purchased. Mid-range gift requests can work out, though, because a group of people (like your co-workers or attendants) might want to chip in on one larger present for you. A good piece of advice for any bridal registry is to have items in a very large range of prices so there is something that anyone can afford from your wish list.