Best Wedding Registry
Wedding Registry Etiquette - Give Us the World
If you've ever checked out the wedding registry of a wedding couple to see what they are requesting for wedding gifts, you might be not be surprised to find them asking for some frivolous items they may not need.
Don't get me wrong because I love frivolous things too but if you're on a budget to start, it might be a good idea to be practical in the beginning. Our wedding registry etiquette wasn't original but we really thought about what gifts to choose to jump start our new life together.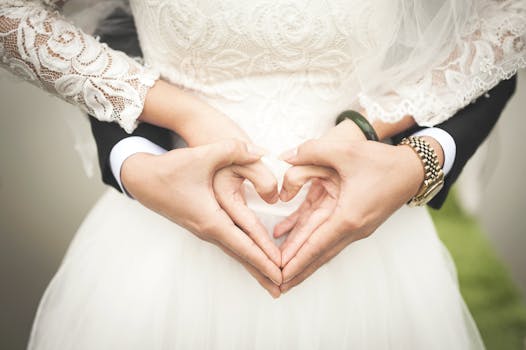 During this time, your mind can easily go into fantasy mode about what to ask for. How about a big screen high definition TV for the extra bedroom and of course the new TV will need to a stand to sit on or maybe even brackets to hang from the wall.
How about audio, you can't watch television of that caliber and not have a great audio system. It's natural to think that way when you're getting a bunch of free gifts from your wedding guests. It just means you're human.
There were so many wedding gifts we could have added to our wedding registry that would not have been practical. What else can I put on the registry while people have their wallets open? My sense of humor kicked in often during this time but reality eventually sunk in. I'm no longer going to be single and must think about my new wife and the best way to take care of her.
We didn't want our wedding registry etiquette to be frowned upon nor to be a set up for frivolous gains. We knew we were going to need a bunch of practical things to get by.
We actually needed a toaster, a tea pot, some silverware, ironing board, iron and a few other items. So we request things we needed from our registry. I fact, I think it's time to get some extra forks right now; so many have gone missing.
Best Wedding Registry
By all means, if you are a couple that is doing great financially, please skip this article. But, if you know your finances will be waning after the wedding, this message is for you.
Get what you need and not what you want from you wedding registry. It is one way to eliminate the need to spend money right after the wedding. The cost of your wedding alone will be enough for the two of you to endure.
As newlyweds, it's a great time to in life to get a lot of old things replaced. It's always nice to start fresh. Before couples get married they usually have old pots and pans given to them by their mother and borrowed blankets that will never be returned. Donate them!
When you replenish necessary items together as a couple, you're presented with a great opportunity to put away the old and bring in the new together. We used Create & Barrel for our wedding registry and would definitely use them. It's a great company with great products.
While making your wedding gift registry list, you might also think about how much money your wedding guest will have to spend on each gift.
Even though it's your time to get free items, your consideration for this detail will be noticed and you stand a better chance of getting more of the items you ask for.
I've seen gift requests that were way out of my price range. In that case I just keep on scrolling until I find something I can afford.
If you have friends that can afford to pay a little more, by all means, choose up scale wedding gifts from your registry. Items that cost too much could make your guests feel uncomfortable about getting a gift from the registry. So mix it up with a little of both; expensive and not so expensive gifts.
I can honestly say we still use those items today. If you know your financial situation will be tight after the wedding, think about creating a buzz among your wedding guests to give cash instead of buying a gift.
Take the cash and do comparison shopping for what you need and save the rest of the money for rainy day. It could be a great way to get your life started.
How to Plan a Bridal Store Wedding Registry Effectively
The best thing about planning your bridal stores wedding registry is that it's like shopping without actually spending any money. A stores wedding registry is simply a listing of gifts that you and your future husband would like to receive. As a guest makes a purchase the item is crossed off your list, this effectively helps to reduce the number of duplicate gifts that you receive.
When you and your fiancé fill out details on the stores wedding registry you are adding details such as size, color and quantity, again this ensures that various gifts from different guests will still match your décor.
The best time to register with the stores wedding registry is just before you send out the wedding invitations. If you are planning on holding an engagement party or bridal shower register before these events take place as well.
Most of the major department stores now include many items in their stores wedding registry database. This allows you to choose from items such as luggage for your honeymoon to home furnishings and even power and gardening tools.
Most new couples will definitely require the following items:
· Glasses
· Dishes
· Flatware set
· Mixing bowls
· Basic kitchen gadgets
· Knives
· Towels
· Bed linens
Many smaller stores now offer their own stores wedding registry, so don't feel as though you have to register with the big named department stores. A small store can often offer unique lines of gifts that are often more personable.
You can register for any items you wish and the best way to let people know where you have registered is by having your parents spread the word to people. Putting the stores name on your wedding invitations is not seen as good wedding etiquette, it looks as though you are expecting everyone to purchase an item from this list. Some more distant guests may prefer to attend without bringing a gift and this is perfectly acceptable.
If you and your fiancé have all ready stocked your new home then advise people of this saying there aren't any major items that you require. These guests will often give you some money instead. They will easily understanding that you might prefer to put the money away towards any future emergencies. Many guests prefer this as it saves time from visiting several stores wedding registry to see what items you require.
Basically if you require lots of items then register with a larger department store that has a wider variety of gifts on their stores wedding registry. If you prefer smaller unique gifts then opt for a smaller store instead.
Some guests will always have their own ideas of what to give as a wedding gift and these are always welcomed as an unexpected surprise and can range from something small to a larger household item.
Make an Online Wedding Registry
Wedding registries not just help out your guests but help you get accurately what you wish for and save time at the return lines after the wedding. Online wedding registries are very convenient as well as bride friendly.
In many cases, to set up an online wedding registry you must go through a huge retailer. A number of the largest retailers with online registries consist of Wal-Mart, Target, Bed Bath and Beyond, Macy's, and REI. Smaller boutique stores can as well have online registries, but not all of them do. You can call a local boutique to see about their wedding registry options.
If you don't want to home your registry at only a small number of stores, create your online wedding registry through MyRegistry.com. This site permits you to include items from some store in the world to your registry and send it to your family and friends. It is a smart way to keep prices low because you can discover the best offers from as many diverse stores as you want.
To begin making an online wedding registry, you'll need to sign up by making a username and password. Be sure to record this somewhere near your PC so you will be able to access your registry. After that you can look for the site to add items to your registry and find updates about what items have been purchased for you.
The great thing about online wedding registry is that you can inform and edit your registry at any time of the day with no having to worry about store hours or crowds. A lot of stores also carry items online that are not in stores, thus browsing online makes sure you don't miss a thing.
Top 5 Musts For Your Wedding Registry
Creating your wedding registry will probably be one of the most fun but also most tiring parts of planning for your wedding.
It starts off super fun to use the little scanner guns to choose the wedding gifts you hope someone will buy you. But then the list gets longer and longer and you start to wonder which set of dishes would look best with the set of glasses you chose. Then you can't remember which set you actually chose so you have to go over and look at them again. Then you wonder how many things you need on your list or if it is considered good etiquette to register for expensive things or not.
While you are peppering your fiance with these questions, he is getting more and more tired of shopping. Pretty soon your fiance says he doesn't care which set of towels match your soap dispenser best, just hurry and choose. Then you accuse him of not caring about this wedding like you do and things go downhill from there.
So how do you keep your wedding registering from turning ugly? You go to register prepared and knowledgeable about what to choose. Keep these top 10 wedding registry tips in mind as you tackle this wedding task.
Here are the first five.
1. Quality: Register for good quality items. We knew our friends were not very well off because they were college students like us. We also didn't want to seem greedy, so we registered for the least expensive of every item we could find. The problem with this was that many of the cheap items we registered for had to be replaced within a year or two, but this time it was at our expense. So be sure to look for quality.
2. Price: Register for a variety of price levels. What you may think is too expensive to put on a registry may be perfect for your coworkers to go in together on. What you may be afraid is too small to put on a registry may be fun for people to bundle together for a personalized gift basket.
3. Convenience: Take your guests' convenience into account when you register. Ask the store if your guests can purchase items online from your registry. Make sure to register at a store that is close to where your wedding will be held. Make sure your registry is easy to understand and includes all the information your guests will need to get the exact product you want.
4. Creativity: Be creative when you register. Try to think of items that you really want but that might not traditionally be on a registry such as camping gear.
5. Duplication: Be careful when registering at multiple stores that you don't register for the same item but different brands or features at two different stores. This may confuse guests who look at multiple registries as to which item you really want.